Blast and Whisper: Elijahs Story
DVD Release:
September 27, 2011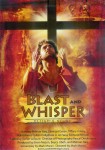 Synopsis
In 868 B.C., Elijah (Mehran Haq, "Step Up") along with his tribe suffers grave injustice at the hands of a powerful Sidonian Queen of Ten Northern Tribes (Liberated Green, "One Tree Hill," "Exorcism," and "Commander in Chief"). After being reduced to a final few, Elijah insists his vengeance stay firmly locked in his God's hands. Without precedent, he keeps intact his code of honor to be slow to revenge. In reward for this seeming failing from a human perspective, his God sends word to Elijah that the Almighty will Himself take vengeance on the mere mortal's behalf with whatever verdict Elijah selects! Eventually Elijah ends the chosen punishment, through a challenge between his God and the gods of his enemies with explosive results, Elijah must hide in a cave and he discover that his God would much rather reach His children in soft whispers than fierce blasts.
Dove Review
The story of Elijah is presented here, based on known traditions as well as the biblical story. The scene of fire coming down from heaven to consume Elijah's sacrifice is nicely handled, and the clothes are reminiscent of the time period. The movie focuses on Elijah's stand against the prophets of Baal as well as the one called "the witch queen" in the movie, namely evil Queen Jezebel, King Ahab's famous wife.
Unfortunately, there are a few graphic scenes of violence in the film, including a scene of bloody corpses lying dead on the ground and a scene in which a character is stabbed in the back and the blade in the back and the resulting blood are realistically shown. We have awarded this DVD our Dove "Faith Based" Seal with a caution to parents for violence.
Info
Company:
Breadwin Productions LLC
Industry Rating:
Not Rated
Starring:
Mehran Haq and Liberatad Green
Reviewer:
Edwin L. Carpenter