Paul
Theatrical Release:
March 18, 2011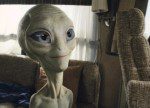 Synopsis
Simon Pegg and Nick Frost (Hot Fuzz, Shaun of the Dead) reunite for the comedy adventure Paul as two sci-fi geeks whose pilgrimage takes them to America's UFO heartland. While there, they accidentally meet an alien who brings them on an insane road trip that alters their universe forever. For the past 60 years, an alien named Paul (voiced by Seth Rogen) has been hanging out at a top-secret military base. When he discovers he's been taken prisoner, the space-traveling smart ass decides to escape the compound and hop on the first vehicle out of town-a rented RV containing Earthlings Graeme Willy (Pegg) and Clive Gollings (Frost). Chased by federal agents and the fanatical father of a young woman that they accidentally kidnap, Graeme and Clive hatch a fumbling escape plan to return Paul to his mother ship. And as two nerds struggle to help, one little green man might just take his fellow outcasts from misfits to intergalactic heroes…
Dove Review
Question – What happens when you can't write a humorous and smart story today in Hollywood? Answer -You swear! That is the story here. Paul is an alien who is stranded on earth and enslaved by the government. When he escapes he is picked up by two Brits who take him on a road trip to help him get back home. Paul is the alien who swears like a sailor and smokes cigarettes and marijuana. During the trip, he and his companions cuss their way across country in an RV.
There was little to enjoy in this film and even when some of the audience did laugh, it was mostly out of embarrassment rather than true humor. Most of the cast is recognizable and many were and/or are Saturday Night Live cast members. This however helps little as this was one of the grossest movies I have seen to date. Our recommendation is to go out and rent "E.T." and call it a night.
Info
Company:
Universal Pictures
Writer:
Nick Frost & Simon Pegg