The Kings Speech
Theatrical Release:
November 6, 2010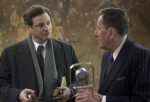 Synopsis
After the death of his father King George V (Michael Gambon) and the scandalous abdication of King Edward VIII (Guy Pearce), Bertie (Colin Firth) who has suffered from a debilitating speech impediment all his life, is suddenly crowned King George VI of England. With his country on the brink of war and in desperate need of a leader, his wife, Elizabeth (Helena Bonham Carter), the future Queen Mother, arranges for her husband to see an eccentric speech therapist, Lionel Logue (Geoffrey Rush). After a rough start, the two delve into an unorthodox course of treatment and eventually form an unbreakable bond. With the support of Logue, his family, his government and Winston Churchill (Timothy Spall), the King will overcome his stammer and deliver a radio-address that inspires his people and unites them in battle.
Based on the true story of King George VI, THE KING'S SPEECH follows the Royal Monarch's quest to find his voice.
Dove Review
"The King's Speech" is a dramatization of the relationship between two men. One is the King of England, a man of power who stammers and the other is his speech therapist. The film explores their sessions together and the effect it had on King Edward. Radio was the medium of the day and as the figure-head of England, Edward was responsible for addressing his country and needed to lift the spirits of a nation soon to be at war.
While the film was well directed and acted as is noted by the several Oscar's and nominations it garnered, it was unfortunately laced with language that prevented it from receiving our recommendation for families. This is truly a shame since almost all of the offending language took place in a single scene. It has come to our attention that there may be an edited version of this film released on DVD. We can only hope and pray that this will be the case.
Info
Company:
The Weinstein Company LLC
Starring:
Colin Firth
, Geoffrey Rush and Helena Bonham Carter