Juniors Giants 3 – Nothing But the Truth!
DVD Release:
April 11, 2011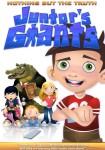 Synopsis
The best-selling children's series just got better with a brand new episode, Junior's Giants #3 – Nothing But The Truth
In this episode Junior Anderson wages battle against a giant crocodile lawyer named Lyle Little, Esquire. Lyle teaches Junior that the best way out of a lie is to lie a little more. His terrible advice sends Junior on a cross-country road trip with Mom to reveal the truth!
Meanwhile at home, Celia turns Niko into her personal slave by conferring on him "entourage status." Little Man becomes a world renown social networker and Dad uncovers a conspiracy soooo dark, sooo mysterious that only a beautiful mind like his can uncover it.
Dove Review
In this episode of Junior's Giants, Junior lies to his mother and father about his tardiness to dinner. While trying to uncover the truth, his mother takes him around the country to talk with different groups so they can unravel the twisted lies he has told.
As with the other episodes, there are some political undertones and in this case the blending of a couple of government agencies, specifically the FDA and DFCS. There is also a totally unrelated potential cover-up by one of the agencies concerning prescription pain killers in cereal boxes. However, the lessons that the truth will set you free and friendship is not to be abused are clear in this fast-paced flick. Dove is pleased to award this DVD our "Family-Approved" Seal for all ages.
Info
Company:
Bridgestone Multimedia Group
Industry Rating:
Not Rated