Wow! Wow! Wubbzy!: Wubbzy Saves the Day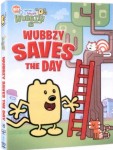 Synopsis
In these six super episodes, join Wubbzy on his most heroic adventures yet as he hosts a bird-watching slumber party, has a memorable picnic in the park with Daizy and Widget, solves his own nosey dilemma, and much more! How will Wubbzy help a group of lost baby chirpees find their way home? Can Wubbzy stop a snoozing Moo Moo from casting crazy spells all over Wuzzleburg? There are plenty of cool songs to get the kids moving — along with delightful lessons about sharing, caring and being you — all in this courageous new collection of Wuzzleburg fun!
Dove Review
Wow! Wow! Wubbzy! has done it again! In this DVD, all of the episodes feature the lovable Wubbzy and his friends helping others through their love, kindness and actions. As with the previous episodes, there are plenty of good stories and songs to keep your kids entertained. Lessons of loving and serving others are presented in fun and memorable ways. Come join the colorful cast of irregulars as they exhibit kindness and share in their gentle friendship.
Dove is pleased to award "Wubbzy! Saves the Day" our Dove "Family-Approved" Seal for all ages.
Info
Industry Rating:
Not Rated