The Sword
DVD Release:
June 1, 2011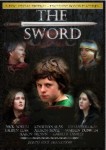 Synopsis
The Sword tells of an epic journey of faith – and the passing down of faith – from ancient days through the modern age. Forged during the time of Christ, the sword itself begins as a typical weapon of a prison guard but becomes a family symbol of steadfast faith as it is handed down over time and generations. In its central narrative, The Sword tells the story of Garron, the young son of a medieval nobleman who is left in charge of the family estate when his father is summoned to war. After his mother's health worsens and his sister Annora is abducted by enemy raiders, Garron must make difficult choices in overwhelming circumstances in keeping his word to defend his home, his family and his faith.
Dove Review
This is a story about the legacy of a sword which is handed down from the historical past to the modern day. It was forged during the time of Jesus. The plot focuses on Garron, a medieval nobleman's son, who finds himself as protector of the family when his father goes off to war.
There are some violent moments in the story, none very bloody, which results in us awarding our Dove Seal to this DVD for ages twelve and above. The themes of family loyalty and a trust in the Lord are nice themes as is the theme of those who go off to war to protect everyone else. In addition the theme of defending one's faith is nicely handled. Watch this DVD with your family soon!
Info
Company:
Bridgestone Multimedia Group
Industry Rating:
Not Rated
Starring:
Allison Boyle
,
Aaron Brown
,
Joel Brown
,
Rachel Brown
,
Stephen Brown
,
Grace Dunklin
,
Warren Dunklin
,
Garrett Lashley
,
Denise Leak
,
Jonathan Leak
,
Laruen Leak
,
Ethan Milukas
,
Sutton Milukas
,
Aaron Pendleton
,
Jim Shealy
,
Christain Stroud
,
Julie Yokum
,
Nick Yokum
,
Ty Yokum
,
Zach Yokum
Reviewer:
Edwin L. Carpenter