Truth Be Told
Theatrical Release:
April 16, 2011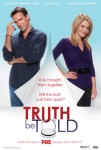 Synopsis
When leading marriage counselor Annie Morgan (Candace Cameron Bure) is offered an opportunity to host a relationship talk show, she jumps at the chance. But fearful that being single might ruin her big break, she conspires with an old college friend and recent widower, Mark Crane (David James Elliott), to pose as a married couple with kids. Their story starts to unravel when Annie and Mark join her eccentric soon-to-be boss (Ronny Cox) for a weekend at his ranch in New Mexico. Comical misunderstandings mark the event as Annie struggles to keep up the ruse, finding herself emotionally invested and conflicted by her own conscience. Will she confess the truth about her marital status and her feelings for Mark… and will the truth be told?
Dove Review
"Truth Be Told" is one of those rare movies that can be watched by the whole family. While the central theme surrounds a man and woman who pretend to be married to advance their personal goals, they soon find out that they have made a mistake. When they decide to tell the truth, they find it difficult to do so without hurting those to whom they have lied.
This movie contains values lessons such as ambition and personal achievement, personal integrity and moral courage thereby giving the family plenty of "teachable moments" to use as they discuss the film together. In the end, everyone in this picture realizes the impact of their lies and come to the conclusion that it's far better for the truth to be told. We are pleased to award this wonderful family movie our Dove "Family-Approved" Seal for all ages.
Info
Company:
Front Porch Entertainment