The Never Ending Story III: Escape from Fantasia
DVD Release:
February 18, 1997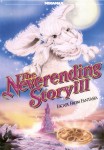 Synopsis
The final chapter in the popular film trilogy stars Jason James Richter (Free Willy) as Bastian, a teenager whose life is turned upside down when his father remarries.
On his first day at a new school, Bastian is chased by a vicious gang called the Nasties, led by Slip (Jack Black, Gulliver's Travels). Bastian hides in the library where he finds a magic book that writes itself according to the imagination of the reader. To escape the Nasties (and his troubles at home), Bastian wishes himself into Fantasia, the storybook's phantasmal world of incredible creatures. It's here, away from the pressures of the real world, that Bastian thinks he's safe. But, when the Nasties take control of the book, his Fantasian friends get stuck on Earth, and it's up to Bastian to save them.
Dove Review
"Never Ending Story III: Escape from Fantasia" is a fast-paced fantasy film which is set in both a real world and the unusual, slightly bizarre world of Fantasia. The characters are able to move between their two worlds by using a wish and a magical necklace. Bastian, the primary character, and several of his otherworldly friends are on a journey to save Fantasia from a dastardly crew who seek to do her harm.
Bastian struggles with the challenge of adjusting to his place in a new family, a new school, and is challenged by a group of rebellious older students who do anything but make his life easy. His new stepmother isn't sure how to handle her new son and the sister he has always dreamed of having isn't so sure about him either, but the family ties are seen as valued and worth fighting to maintain.
The film carries a strong theme of fantasy and imagination with a touch of sorcery thrown in. There is talk of crystals and inter world transportation. Several scenes were observed in which characters discuss potions and spells, although no spells appear to be cast. The characters are imaginative and fanciful with a touch of humor throughout.
We found this film to be pleasant viewing, but given its underlying theme of magic and sorcery we advise parents to be aware it may not be suitable for their families. We award this DVD our Dove "Family-Approved" Seal for ages 12 and over.
Info
Company:
Echo Bridge Home Entertainment
Producer:
Dieter Geissler and Tim Hampton