Coach Tyranny: Tough Love
DVD Release:
March 8, 2011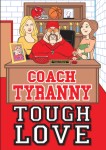 Synopsis
From his home base at Oxbow High, Coach Gene Tierney is on a mission to change the world – just as soon as he figures out how. Coach "Tyranny," as his players call him, is so obsessed with developing neck, chest and calf muscles that he needs a little help from the people around him to keep him on the right track.
In fact, if there's one thing we can learn from Coach Tyranny, it's that God really can use anyone. Even though he may seem a little misguided, you'll soon find that his massive chest houses one of the biggest hearts around.
If you're ever around the Oxbow High football field on a cool, autumn afternoon, you're likely to hear Coach Tyranny barking his favorite line…Don't Mess…With The CHEST!"
Dove Review
Coach Tyranny wants you to do the right thing and this DVD has some great ways to teach your kids how they can achieve that goal. By asking questions such as "Who is my neighbor?" or "How can I honor my father and mother" the coach teaches biblical life lessons in a fun and enjoyable way. So, use your gifts for God's glory and have a good time while you watch this exciting DVD.
Dove is pleased to award "Coach Tyranny: Touch Love" our Seal for all ages.