Running Inside Out
DVD Release:
January 24, 2012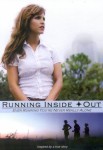 Synopsis
Inspired by a true story, Kim embarks on her college career to journey through love, success and unexpected crisis. With a dream job, a fresh start and an inspired passion for running, Kim is forced to the edge by a sequence of painful life circumstances including an unplanned pregnancy. As her life crumbles and relationships fade, her hardened aloneness is unveiled. "Who will stand with me? Who will love me — just for me?" This is a passionate film about one woman's search for a love that will last and the people who make a difference through ordinary acts of kindness.
Dove Review
"Running Inside Out" is a dramatic movie about choices and consequences in one young woman's life. Kim's choices bring turmoil for not only herself but between her and her family. Kim finds herself in an unexpected situation of being an unmarried pregnant woman. This position changes the course of her life with her family and professional life while bringing her to face her relationship with God in a different light that changes her forever.
It is a story of forgiveness and redemption along with the consequences of premarital relationships. Due to the topic that this movie features we award this film the Dove "Family-Approved" 12+ Seal.
Info
Writer:
Robert Hirst with Rick Mace
Industry Rating:
Not Rated
Starring:
Andrea Prescott and Jeffry Griffin