A Wrinkle in Time
DVD Release:
April 26, 2011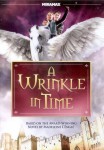 Synopsis
Madeleine L'Engle's best-selling and beloved Newbery Award-winning novel bursts to life in a spectacular family film that TV Guide calls "charming and imaginative."
When astrophysicist Dr. Jack Murry disappears without a trace, his children, Meg and Charles Wallace, and neighbor Calvin O'Keefe, embark on a cosmic quest to find him. Guided by Mrs. Whatsit, Mrs. Who and Mrs. Which, the children travel to a distant planet and encounter a society controlled by an evil force. They must trust themselves and each other if they are to rescue Dr. Murry and return home safely.
Enjoy the nonstop excitement and adventure of A Wrinkle in Time, starring Academy Award® nominee Alfre Woodard and Gregory Smith (TV's Everwood). It's an amazing journey your family will want to take over and over again.
Dove Review
"A Wrinkle in Time" is a tale of good and evil based on the Newberry Award-winning novel by Madeleine L'Engle. Many children will have read this book and for the most part the movie follows the story closely. There are some frightening moments when the characters travel through time and space and they encounter a society ruled by a mind-controlling evil force. There are separations — the father is missing, the mother is sad and the siblings who need each other become parted. Fantasy characters come in many bizarre forms and are inserted throughout the film. A giant brain is the basis for the evil in the story, although it is primarily heard but not seen. The special effects are dazzling and the story is vibrant and fun to watch. Themes of family, trust, friendship and strength amidst insurmountable odds are woven into the intricate fabric of this story.
We approve this charming and imaginative film for families with children ages 12 and over and award it our Dove "Family-Approved" Seal.
Info
Company:
Echo Bridge Home Entertainment
Industry Rating:
Not Rated