Live to Forgive
DVD Release:
June 14, 2011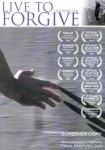 Synopsis
LIVE TO FORGIVE is a film about faith, redemption, and, most of all, forgiveness and the power to free yourself from the burden of unforgiveness. The film documents the extraordinary journey of DEAN ERIC SMITH to discover the truth and find forgiveness in the most dire circumstances. The story begins with a brutal crime in 1986: a man in Enumclaw, Washington murdered his wife with a baseball bat. The bat belonged to his stepson, Dean, then twelve years old.
Dove Review
Compelling. Powerful. Inspiring. This documentary, a true-life story of forgiveness, will stir some viewers to tears but it is because of the amazing power of God's forgiveness. This DVD documents Dean Eric Smith's journey in forgiving the man who murdered his mother in 1986 by striking her with a baseball bat. Dean himself narrates this program and we see him interact with various friends and relatives. We learn that Dean struggled through many years of bitterness and resentment and anger before becoming a Christian and answering the call to the ministry. It was after this calling that God began to prompt Dean to contact his former stepfather by phone, and then to go visit him in person so his stepfather could begin to forgive himself.
The viewer's anticipation and curiosity grows when the DVD shows Dean at the airport and walking toward the man who killed his mother for the first time in many years. The viewer sees their reunion and the subsequent events. Without giving anything away, it is well worth watching and may leave the viewer with a dropped jaw in just what God can do when people practice forgiveness. We highly recommend this DVD for ages twelve plus although parents will probably encourage their mature children under twelve to watch it as well. This could be a great tool for churches to use in teaching on the subject of forgiveness. We gladly award this inspiring DVD five Doves, the highest rating we can give. Watch it and it might just change your life!
Info
Company:
Bridgestone Multimedia Group
Starring:
Narrator Dean Eric Smith
Reviewer:
Edwin L. Carpenter