One Hit from Home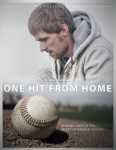 Synopsis
After suffering a career ending knee injury, pro-baseball superstar Jimmy Easton returns to a place he has not been in a very long time…home. Here, Jimmy confronts dark memories from a tragic past as he tries to make peace with a life he once left behind. Things take an unexpected turn when he is forced back into the world of baseball as the coach of an underachieving college team. Coach Jimmy's rocky relationship with Brandon Elliot, the team's only star, forces both of them to deal with their similarly troubled pasts.
"One Hit from Home" is an inspirational family film that explores the unpredictability of life, reminding us that through our greatest struggles only faith can bring us home.
Dove Review
Life is full of hardships and struggles. This is the case for a former professional baseball player as he finds himself in trouble for acting out his aggression after he is forced to quit the game he loves. As he tries to come to grips with his own situation, he is brought face to face with a young boy suffering from some similar situations.
This film shows that the road to one's own recovery often leads to helping others face their struggles. God is the only one who can help you deal with your past and learn how to move forward. By helping others, Jimmy learns how to help himself. This movie deals with some hard subjects in compassionate ways, topics such as reconciliation, acceptance of the past and self-sacrifice for the benefit of others are explored in moving ways. Dove is pleased to award this film our "Family-Approved" Seal for ages 12 and over.
Info
Director:
Dave Stone & Johnny Meier
Industry Rating:
Not Rated