The Thief and the Cobbler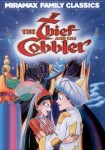 Synopsis
Feast your eyes and ears on this colorful, hilarious and thoroughly entertaining action-adventure! The timeless story of The Thief and the Cobbler is brought spectacularly to life in this critically-acclaimed, feature-length fantasy created by the Academy Award®–winning animator of Who Framed Roger Rabbit, Richard Williams, and features the voice talents of Matthew Broderick, Toni Collette, Vincent Price and Jennifer Beals.
In an ancient city, a timid shoemaker's apprentice named Tack falls for the lovely and adventurous Princess Yum Yum. When a bumbling thief manages to steal the enchanted golden balls that protect the city, Tack and the Princess must courageously defeat the evil wizard Zig Zag and save their beloved city from destruction.
Dove Review
This film is an enchantment for the senses featuring dazzling animation and a sweet love story. Action abounds as a timid shoemaker falls for the daughter of the king. We meet a bumbling thief, an evil wizard and a cadre of hulking bad guys who round out the cast of characters. Three golden balls that protect the city come up missing, causing havoc and impending disaster for all those who dwell within.
Courage, love and suspense are featured as we follow the adventures of Tack the Shoemaker, Princess Yum Yum, and Zig Zag the Wizard on a wonderful journey of delight! We found this film to be a delightful story that will be enjoyed by the entire family and are happy to approve for all ages.
Info
Company:
Echo Bridge Home Entertainment