Judy Moody and the Not Bummer Summer
Theatrical Release:
June 10, 2011
DVD Release:
October 11, 2011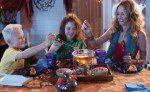 Synopsis
When her best-laid plans for a summer full of fun go comically awry, an imaginative young girl creates her own vacation adventures in Judy Moody and the NOT Bummer Summer. Based on the beloved, bestselling book series by Megan McDonald, Judy Moody and the NOT Bummer Summer is an irresistible and delightfully funny treat for adventure-loving kids and adults.
This summer, Judy Moody is planning the most super-duper, double-rare summer vacation ever with best friends Rocky and Amy. Except that it turns out Rocky is going to circus camp to learn to tame lions, and Amy is headed off to Borneo with her mom to save a lost tribe while Judy stays home with her pesky little brother Stink and second-best friend Frank Pearl.
Just when she thinks things are as rotten as they can be, her parents announce that they will be going to California and Judy will have to stay behind with her Aunt Opal, who she's never even met! It looks like Judy's best summer ever has just become her way worst summer ever.
But feisty, fearless and ever-funny Judy Moody never gives up! With help from some unexpected sources, she's headed for a summer full of surprises in this charming and spirited family film. Get ready, get set, get MOODY!
Dove Review
What an uber mega thrill! This family-friendly film is filled with summer fun which is a joy to watch any old time! Young Judy Moody learns that sometimes when things don't go as expected in life they have a way of turning out pretty good in the end. Join Judy and her brother "Stink" (whose real name is James) as well as free-spirited Aunt Opal who shows up to watch the kids while the parents temporarily leave their Virginia home and take a trip to California to help take care of Grandpa. Aunt Opal is different in a good way and adds a little color to the kid's lives. A few of the scenes are animated including one in which Judy locates Bigfoot and the animation is very nicely done.
Judy is determined to compete with her friends to see who can get the most "thrill" points and win by summer's end and part of that is finding out where and what "cold" place her teacher Mr. Todd works at during the summer. Enjoy such scenes as Aunt Opal building a real life-size "Bigfoot" and how Judy and Stink charge fifty cents for each person who wants to touch it. Of course Dad has an idea that whoever pays $100 will get to take Bigfoot to his or her own home!
This is a wholesome family film and, as Judy Moody herself would say, a "thrilladelic" movie for the entire family. We are pleased to award it our Dove "Family-Approved" Seal.
Info
Company:
Relativity Media
Writer:
Kathy Waugh & Megan McDonald
Producer:
Sarah Siegel-Magness and Gary Magness - Executive Producers: Bobbi Sue Luther and Andrew Sugerman
Reviewer:
Edwin L. Carpenter