Meet the Phonics: Blends
DVD Release:
June 1, 2011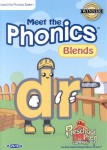 Synopsis
Children will fall in love with these wonderful characters as they "Meet the Blends". Two letters that come together and keep their own sounds are taught in primary school as "letter blends". Meet the Blends makes learning to identify blends fun and easy. Meet the Blends teaches 20 blends that are taught in primary schools across the country. Blends are taught both alone and in word context. Preschool Prep Series DVDs have won over 25 national awards and are used in thousands of schools across the country. You will be amazed at how easily your little one can learn their blends!
Featuring: bl, cr, cl, cr, dr, fl, fr, gl, gr, pl, pr, sc, sk, sl, sm, sn, sp, st, sw & tr
Dove Review
Children will love to learn as they watch this educational DVD. In this DVD from the Preschool Prep Company, the colorful combination of two letters come together to make a blend of sounds to help your youngster sound out words. The cute letter characters teach them the sound and they show them example of words that they are used in. This makes this a fun, enjoyable and educational DVD to help your children in their learning experience.
We are proud to award " Meet the Phonics: Blends" the Dove "Family-Approved" Seal for all ages.
Info
Company:
Preschool Prep Company
Industry Rating:
Not Rated