The Legacy of the Diamond King (Novel)
Book Release:
August 1, 2010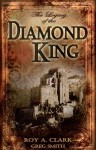 Synopsis
On the edge of losing it all, a mysterious letter appears to offer more than money could ever buy. Gaining insight and wisdom, a young fallen prince regains his once taken kingdom and becomes the wealthiest man in the world through the mentoring of an unlikely gardener. The wisdom of the ages is now wrapped in a compelling story of a boy who becomes a man, a prince who becomes a king, in a legend that becomes a legacy.
Follow Diamante as his arrogance competes only with his ignorance arriving at a place where near death is greeted with gratitude. Broken and abandoned, this once-king-kid finds hope in his darkest hour and emerges willing to listen and learn all it takes to regain the trust of a kingdom and the love of his life to become the man he never thought he could be.
Dove Review
This is a wonderful story which comes full circle, and is written in the spirit of King Arthur and other tales of classic literature which resound with nobility, loyalty and the rewards of choosing the right path. In this case, a young man who has never gotten along with his father is left an inheritance upon his grandfather's death, an inheritance which can make him the wealthiest man around. Yet it does not involve material riches. When the man convinces his father to tell the story of the grandfather, and of the Diamond King, we learn the rich and moral story of an arrogant king named Diamante who needed to be humbled and in the end does an about-face. He becomes a hero to his people and the woman he falls in love with.
As I read this 254-page novel, I began to suspect that the arrogant Diamante, who previously was a womanizer and heavy wine-drinking man of revel, might still have hope as life humbles him following a coup by a powerful enemy who takes away his throne. Diamante appears later as a man who has tasted the dust of the earth and has felt hunger and thirst, something his people once experienced under his reign. He now realizes what is important in life, namely people and doing the right thing by them as well as remembering the lessons he learned from his father, the good King Bonum, who believed the king was accountable to God. He also had advised his son to do what is right, not what is convenient. In another place in the novel the former king prays, "Oh God, how could you have given me so much and I responded with so little?"
It is not at first apparent whether Diamante will ascend once more to the throne as the now humble man no longer desires the position. A man he had previously forced into early retirement, Master Verde, believes that Diamante should take his time but that he might once again sit on the throne and overthrow the tyrant Jalous, who now is the evil ruler. To do so, he must once again bear the sword which Master Verde has hidden from the present tyrant Jalous. There are many enjoyable moments in the story as the reader waits to learn Diamante's fate and whether there will be a quest for the sword. Great descriptions are used in the telling of the story. Another nice line is that unforgiveness is like walking with a stone in one's shoe.
This story features battles which are not gratuitous in description and it also includes a theme of serving God and helping one's fellow man. I found myself wanting to learn how it would all end and any good story keeps the reader turning the pages as this one does. We are more than pleased to award it our Dove "Family-Approved" Seal for ages twelve plus and we strongly recommend it as a thoroughly good read and moral story. Its themes of forgiveness, loyalty and second chances are commendable. In this good vs. evil story, you will find yourself rooting for the good guys!