Lots & Lots of Jets and Planes Vol. 1 & 2
DVD Release:
November 5, 2010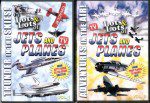 Synopsis
VOLUME 1 – THUNDER IN THE SKIES
No matter what your age, if you love jets and planes and any type of aviation we guarantee you will love this incredible 2-DVD collection of fighters, flyers and fantastic aerobatics ever recorded. You will twist, tumble, flip and scream through the skies at death-defying, sound-breaking speed with some of the hottest top gun pilots and aerobatic stunt pilots in the world. Plus, there are float planes, jumbo jet airliners, prop planes, wing walkers, war birds, and ultra-light aircraft! You'll see historic aircraft at the National Museum of the US Air Force, spine-tingling aircraft carrier action and more! See live historical footage from Kitty Hawk, a tribute song to the most famous pilots in the world and see the Shuttle ferry in action from blast-off to landing. As a Special Bonus Feature in Volume 1 we take you back in time thru archival footage to discover how planes fly and the development of the first 50 years of aviation!
VOLUME 2 – ADVENTURES IN THE AIR!
In Volume 2 we positioned our cameras all over these jet aircraft so you can experience the real feel of flying at high-altitude at incredible speeds to feel the power as the G-Forces build-up inside the cockpit! You'll see a plane built right before your very eyes, check out historical airplane stamps and you'll see more historic planes from the National Museum of the US Air Force®. There's the Airplane Counting Song, float planes and awesome aircraft carrier action you won't want to miss! You'll also see more non-stop air show action, jet demonstration teams, fighters from the past, helicopters, wing walkers, giant cargo planes, classic planes and giant Radio Controlled planes that look and act like the real thing plus ultra-light flying machines to experience the thrill of solo flight! As a Special Bonus Feature in Volume 2 we will take you back to the 1950s to see the first commercial passenger jet to fly the Atlantic and archival footage of early jet aircraft! Plus, the incredible story of the X-15 rocket powered aircraft space plane and man's first journey to the edge of outer space!
Spectacular close-up camera footage combined with award-winning sing-a-long songs by James Coffey and real-life sounds make the thrilling action of LOTS and LOTS of JETS and PLANES a favorite among young and old alike! Each DVD is approximately 80 Minutes. PARENT RECOMMENDED FOR CHILDREN WITH AUTISM!
Dove Review
Volume 1: Thunder in the Skies
The DVD features lively music and daredevil stunts along with planes, jets and every type of flyers imaginable! Viewers will thrill at this incredible collection of aerobatics – twisting, tumbling and streaking through the air! Featured also is the beginning of flight at Kitty Hawk and modern day marvels like the shuttle launch.
Volume 2: Adventures in the Air
Planes of every shape and size again zoom across the screen in the second volume of this series. Gravity-defying stunts and exciting nonstop action will keep young and old alike on the edge of their seat. Ultra-light flying machines, huge aircraft carriers and giant radio controlled planes are just a few of the amazing machines of flight to thrill lovers of all things with wings!
The Jets and Planes series is great family fun for the youngest member of the family to the senior set. You will most likely find yourself singing several of the fun and catchy tunes long after the last jet has left your screen! We are happy to approve this wonderful film for all ages and it has earned our Dove Seal!