The Art of Getting By
Theatrical Release:
June 17, 2011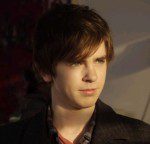 Synopsis
"The Art of Getting By" stars Freddie Highmore as George, a lonely and fatalistic teen who's made it all the way to his senior year without ever having done a real day of work, who is befriended by Sally (Emma Roberts), a beautiful and complicated girl who recognizes in him a kindred spirit.
Dove Review
There are parts of this movie I like and parts I don't. It tends to over-emphasize the drama at times in its story but the acting is to be commended. This movie features Freddie Highmore ("Charlie and the Chocolate Factory" and "August Rush") in his first grown-up role and he does a pretty good job with it. There just needs to be more meat on the bones as the story falls short in its dramatic efforts.
The title of the movie aptly describes the plot. George Zinavoy (Highmore), a talented artist, does just enough to get by and sometimes not even that much. He says, "I am kind of a misanthrope." He is in danger of flunking out of school and his philosophy is, "Everyone ultimately dies, so what's the point of trying?" Yet he is an unassuming and easy-going likable young man who has no real friends, that is until he meets Sally Howe (Emma Roberts), a young beauty who is attracted to George and his unpretentious approach to life. He is attracted to her as well and this, along with a crisis in his mother's life and possible end of his school career, thrusts him into the arena of decision time. Young George must make up a year's worth of homework in three weeks in order to graduate and find a way to reveal his feelings to Sally before she moves away. Can he do this?
Despite a shortage of imagination during a few scenes of the film, it does manage to end on a positive if predictable note. There is a theme of change is possible. Unfortunately, the film also contains strong language and implied sex outside of marriage, and we are unable to award it our Dove Seal for family-friendly viewing.
Info
Company:
Fox Searchlight Pictures
Reviewer:
Edwin L. Carpenter