Lady Dead
DVD Release:
May 14, 2011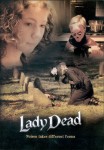 Synopsis
For forty years a local outcast named Lady Dead has been the subject of controversy for the kids of her neighborhood. According to legend, Lady Dead poisoned three kids with homemade taffy apples on Halloween night.
Facing similar isolation is Eileen Pinkerton, a precocious young girl who has a hard time fitting in. After she was accused of being a coward by the bully in her class, Eileen decides to find out the truth about Lady Dead.
However, her good intentions could be thwarted by her fear of Lady Dead. Can Eileen work up the courage to face her own fears in order to allow Lady Dead to tell her side of the story?
Dove Review
This is a nice story about how easy it is to misjudge someone. The old lady known as Lady Dead has been mentioned as a murderer for years, having poisoned three children one Halloween night years ago. She still lives in her old house and people still talk about "that night". Then, young Eileen Pinkerton decides to do her homework paper on Lady Dead, and to learn the real truth. Summoning all her courage, she goes to her house one day and is invited in and, to her surprise, she learns more about Lady Dead than she could have imagined, including her name, Alice Winters.
The kids in Eileen's class are amazed after they eat some cookies which Eileen brought in and they learn that, actually, Lady Dead or Mrs. Winters, made the cookies. Eileen then shares the true incidents of that October night of so long ago and now the truth gives a very different light to the children's view of Mrs. Winters. We are pleased to award this film our Dove Seal for all ages and we recommend it as a good modern story to make an old point, which is not to judge someone until you know all the facts.
Info
Company:
Brad Podowski Productions
Industry Rating:
Not Rated
Reviewer:
Edwin L. Carpenter