Building Hope
DVD Release:
July 25, 2011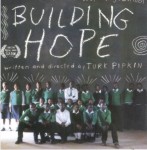 Synopsis
Filmmaker Turk Pipkin's promise to help build the first high school for a remote African community connects Americans and Kenyans in a true story of Building Hope. After rebuilding a rural Kenyan primary school, Turk Pipkin and The Nobelity Project pledge to help build the area's first high school. Through challenges and triumphs, Building Hope chronicles the construction of Mahiga Hope High and the connection between a thousand people in the U.S. and an African community working to create a better future for their children.
Dove Review
Here is a DVD which will inspire hope. Turk Pipkin, founder of The Nobelity Project, pledges to help build Mahiga's first High School and a connection is forged between many, many people in the U.S. and this African community. Architects, construction workers, educators, and many others which include U.S. schools become involved in the building project, donating time, money, and efforts. Willie Nelson and Lyle Lovett and other celebrities help the cause and Willie Nelson sings "On the Road" as well as a nice rendition of "Amazing Grace" at the conclusion of the DVD. It is inspiring to see every day people in the community and surrounding areas donate their labor and time as well.
Agnes Munuhe of the Kieni West Education District praises the primary school and dreams for more, the reality of the secondary school. We learn that Turk Pipkin didn't foresee building a high school but, as he points out, how could he say no? His wife Chris, fighting breast cancer, becomes involved and actually improves from her involvement and the joy of her relationship with the people of the community.
One school's motto is "hard work pays" and that is the motto of so many who help make the dream for a high school become a reality. As the viewer sees the construction and the school reaching completion, despite the setbacks, the feelings of hope will soar. This DVD focuses on hope and themes of hard work, finishing what is started, and community effort. It is an inspiring and remarkable DVD and the Nobelity Project's work as a non-profit organization in filmmaking, children's rights and educational issues is commendable. The kids even benefit with a basketball court and pure drinking water.
As various students share their dreams of learning physics and biology, and one student, George Abrahams, dreams of becoming a journalist, the viewer will take heart. George receives a journalism scholarship and records many of the events in the day-to-day constructing of the school. He is scheduled to graduate from high school in 2012. When the building is finally completed it rains for the first time in nearly two months, something which is so needed. These kinds of stories are featured in this wonderful DVD and we gladly award this remarkable documentary our Dove "Family-Approved" Seal for all ages. Travel to Kenya and live in another world for 72 minutes with hard-working people like you and me who push to make their dreams come true. Five Doves from us!
Info
Company:
The Nobelity Project
Industry Rating:
Not Rated
Starring:
Appearances by: Desmond Tutu, Wangari Maathai and Kenyan youth counselor,
Auma Obama
, sister of President Barack Obama
Reviewer:
Edwin L. Carpenter