Trinity Goodheart
Theatrical Release:
August 20, 2011
DVD Release:
March 27, 2012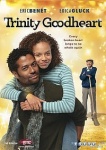 Synopsis
Trinity looks, acts and thinks differently from most kids her age. She's surprisingly mature and independent, thanks, in large part, to the teachings of her father, Jeremy Goodheart, a struggling, free-spirited musician who dislikes following rules.
Trinity doesn't have friends or playmates but she doesn't mind. She's confident, compassionate, bright, artistic, outspoken and wise beyond her years. She believes in angels and it is actually an 'angelic' encounter that sends her on a journey that will change her life and the lives of her family.
Trinity and Jeremy live in a tiny apartment above a neighborhood convenience store. Trinity's mother, Kim Hawthorne, left one day and never returned. Jeremy's parents and Kim's parents, once good friends, have been at odds ever since their children (one black, the other white) became romantically involved. It was their disapproval that ultimately drove Jeremy and Kim apart.
Over the years, Jeremy has deliberately kept Trinity from her wealthy grandparents, partially out of his longstanding bitterness towards them and partially because he believes that exposing her to them would introduce her to a materialistic way of life that he finds objectionable. But when Trinity is visited by an angel that she thinks was sent by her mother, she sets out on her own to connect with her grandparents and endeavors to bring her family together.
When the angel visits Trinity in a 'dream,' she gives her a broken pendant in the shape of a heart. Trinity eventually learns that the inscription on the pendant reads "Every broken heart longs to be whole again" and concludes that if she finds the other half of the pendant, it will lead her to her mother and reunite her family.
But when her father and grandparents don't have the heartwarming reunion she expected, Trinity runs away, determined to find her mother on her own.
In the end, five adults will learn valuable lessons from a twelve-year-old girl about what it really means to love, to forgive and to believe.
Trinity Goodheart is set in modern day Boston.
Dove Review
Do you see people for who they are or what they look like? That is a central theme of this heartwarming film. Everyone is different in some way or another. Unfortunately many people are too quick to judge others based on some sense of conformity. Differences are to be celebrated, not frowned upon. Trinity sees through the facade and into the hearts of others. As she attempts to bring her estranged family back together, she also teaches them how to love each other without condition. As she says in the opening lines of the film, "you're not perfect, but you'll do." We could all stand to learn or remember this simple message.
Dove is pleased to award "Trinity Goodheart" our "Family-Approved" Seal for all ages.
Info
Company:
Image Entertainment