Friends with Benefits
Theatrical Release:
July 22, 2011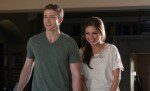 Synopsis
A young female headhunter (Mila Kunis) in New York convinces a potential recruit (Justin Timberlake) to accept a job in the Big Apple. Despite an attraction to each other, both realize they're everything they've been running from in a relationship and decide to see what happens if they leave emotion out of it and keep it strictly physical.
Dove Review
Wow, and I mean "wow" in a, sadly, bad way. This film is likely to offend several people. There are several references to casual sex, a female character asks a man to swear on a Bible app on her electronic device that he won't fall for her if they have casual sex, and a man who is attracted to a male model refers to him as a "Christ figure" because he kind of stumbles forward with his arms outstretched in a manner which suggests crucifixion. In addtion there is rear male nudity so we want to caution viewers that this is a far cry from what one would define as a "family-friendly-film".
There are a couple of laughs along the way but even though the movie is rated R, and intended for adults, there is definitely a section of movie-goers who would not find this one a pleasant experience. Avoid this one like a cow patty.
Info
Company:
Sony/Screen Gems
Writer:
Keith Merryman & David A. Newman
Reviewer:
Edwin L. Carpenter