Church: The Movie
DVD Release:
December 13, 2011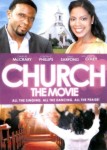 Synopsis
Faced with financial crisis, the members of The Church on the Hill find themselves with the very real possibility of having to put their Church up for sale. With the chaos surrounding the Church's future, its members find themselves plunged into spiritual doubt as well. It's up to the congregation to band together and through music and God's guidance save the Church and themselves. Join a musical journey of praise, forgiveness & redemption.
Dove Review
What a rollicking and rapturous gospel extravaganza! The movie tells a story of redemption and features several great songs on top of it, such as "A Change in Me" and one about a young man who formerly got into trouble but now is staying and working at the church, and it's about the fact he "won't go but will stay." His name is Daniel (Darius McCray from "Family Matters") and the girl he almost married, Nikki, who also happens to be the pastor's daughter, is having a hard time forgiving him because they were going to be married in the past and the night of the rehearsal dinner Daniel was busted for cocaine possession. To top things off, Daniel's friend Jay pops in every so often to tempt Daniel to go back to his old life. Daniel is on probation and wants to prove that, with God's help, he truly has changed.
Another subplot in the story features an unscrupulous businessman who wants to buy the church property and the church is desperate, owing $27,000 on the mortgage and if it is not soon paid it will be auctioned off. The businessman has an ulterior motive and only God can halt the impending sale of the church. The movie features choreographed dances and several songs by talented singers. There are a few scenes which feature the teens rebelling against the new Youth Leader, Daniel, and also mocking preachers but God soon gets ahold of them and they do an about-face and come to love Daniel. McCray gives a strong performance in the film and the energy and music help carry this powerful film about redemption. A couple of miracles take place by film's end and this just may encourage the viewer to search for a miracle! We gladly award the film our Dove "Family-Approved" Seal and recommend it for ages twelve plus. "The Church" just might change your life!
Content Description
Violence:
A woman slaps a man's face; teens fight; teens are accused of busting a drum but a young man says he did it while practicing.
Sex:
A couple of kisses; a girl puts her legs on a boy's legs in a pew in church until an adult comes along.
Language:
A possible use of "A**"; H (as a place)-1; "Oh Jesus" is used in prayer a couple of times as is OMG in thanks.
Violence:
A woman slaps a man's face; teens fight; teens are accused of busting a drum but a young man says he did it while practicing.
Info
Company:
Green Apple Entertainment
Director:
Foster V. Corder and Cory King
Reviewer:
Edwin L. Carpenter