Holly and Hal Moose: Our Uplifting Christmas Adventure
DVD Release:
November 1, 2011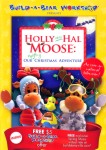 Synopsis
Continue the family tradition with Holly the level-headed inventor and Hal the dreamer, both filled with imagination and heart, destined for adventure. This sibling duo finds their way to the North Pole and closer to each other's heart in this uplifting holiday tale, which will inspire you to follow your dreams…no matter how high they may seem.
Will they be able to work together to save Christmas in time for Santa to make his famous flight? Find out as you experience the holiday antics of this pair of antlered siblings with powerful imaginations, a love of adventure and a wintery world of new friends.
Dove Review
This is such a fantastic and spirited DVD that it put me in the mood for Christmas as I screened it on a hot July day! There is a lot to like about this DVD. The animation shines and is unique in a good way and the characters look almost 3D. They are full and rich in appearance.
The story is original as it is about two moose, a brother and sister named Hal and Holly. Holly takes responsibility seriously as she is the older sister who watches out for her brother and Hal is the adventurous spirit who dreams of flying with Santa and his reindeer. Holly wants to attend her friend Eliza's party but instead has to watch Hal, who winds up leaving the house, only to have Holly track him down. They end up at the North Pole and Holly decides she has to help make Hal's dream come true of flying with Santa. Santa will need all the help he can get as a terrible storm is on the way. Can Santa still deliver his presents and make the children of the world happy? You will have to watch it to find out. The DVD includes a couple of songs which are icing on the cake. The movie includes themes of loyalty and of reaching to make dreams come true. We are pleased to award this perfect family-friendly movie our Dove "Family-Approved" Seal for all ages. Don't miss this one! It will give you the Christmas spirit any old time you watch it.
Info
Industry Rating:
Not Rated
Reviewer:
Edwin L. Carpenter