Christmas Lodge
DVD Release:
October 11, 2011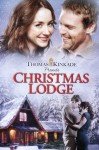 Synopsis
Mary Tobin has wonderful memories of family gatherings at the Christmas Lodge. When she arrives for a weekend vacation, she quickly realizes that the lodge that she loves has fallen into serious disrepair. With a lack of funds and a looming deadline, she not only restores the Christmas lodge's charm but finds love along the way.
Dove Review
I was fortunate enough to review this movie before it was made, in the form of a manuscript. I loved the manuscript and stated I wanted to see the film when it was finished. Well, it is finished and I have seen it and all I can say is…it was worth the wait! The film turned out every bit as good as I envisioned it while reading the script and, if anything, even better. That is a rare thing but the people involved in this project are obviously committed filmmakers who go for quality. The writing, directing, acting, cinematography and music are all truly special.
First off, the writing is solid and inspiring and Lawrence Richardson Jr. and Renee Elaine de Roche have turned in a fine story with dramatic moments which still manages to be wholesome enough for the entire family to view together. Secondly, the directing is excellent and director William Dear has created the right mood for every scene and gotten the best out of all his actors. Speaking of the actors, Erin Karpluk is fantastic as the leading lady Mary Tobin, as she gives us a loving, compassionate character who also defines the meaning of the word spunk. Once she gets behind the restoration of the Christmas Lodge, a place that is special to her and her entire family, especially her grandfather, she is not going to be detoured until it is completed. Also bringing some fine acting chops to the story is Michael Shanks as Jack Rand, who becomes Mary's love interest once her relationship goes south with her former boyfriend, Kent. Jack and Mary share a love for the Christmas lodge, with Jack's family having hosted Christmas guests for many years. John Innes as Grandpa and Michael Kopsa as Mike Tobin, Mary's father, and Michelle Creber as Jack's daughter Charlene all turn in outstanding and believable performances, as does the entire cast.
Even the music, including the ending song "Christmas Gift" performed by Victoria Banks, seems to fit the film like a hand in a glove. I am pleased all of these various elements of the film have meshed together so beautifully and I am pleased to recommend "Christmas Lodge" and it is happily awarded our Dove "Family-Approved" Seal for all ages. We award the film five Doves for excellence, our highest rating!
Content Description
Violence:
A few minor disagreements; a couple breaks up without animosity; a girl has a fall and hurts her ankle and she has a few minor scrapes.
Violence:
A few minor disagreements; a couple breaks up without animosity; a girl has a fall and hurts her ankle and she has a few minor scrapes.
Other:
A man remembers his deceased wife and misses her; a family cares for an ill grandfather who suffers a mild stroke; prayer is offered up over a meal and the Bible is referred to as is God and a question is asked, which is "What would Jesus do?" A young girl lies to her father but he knows it is a lie and says he will speak to her about it later.
Info
Writer:
Lawrence Richardson Jr. & Renee Elaine de Roche
Reviewer:
Edwin L. Carpenter