Theo: Teaching Children Gods Word
DVD Release:
September 13, 2011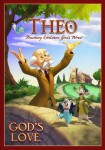 Synopsis
I. Saving Faith
Did you know that the same type of faith that saved Abraham, saves you
and me? Kids will be entranced by Theo, a kind English theologian who
teaches what it means to have genuine, or "saving" faith. Theo shares the
story of Abraham to illustrate the life of a man who trusted the promises of
God and walked by faith. Just as the Lord promised Abraham a son and
fulfilled His promise, He promised a Savior to us. And sent Jesus into the
world at just the right time.
II. Loving Obedience
Loving God and obeying Him are two peas in the same pod! If we love
God, we will obey Him. Luther and Belfry, two field mice that have
befriended Theo, lack obedience and get into trouble wherever they go.
Children will learn a valuable lesson and be entertained at the same time
as Theo uses the story of Jonah to illustrate the consequences of
disobedience, and the blessings that come when we love God through
doing what He asks of us.
III. Forgiveness
Nothing is more basic to the Gospel than forgiveness. Did you know that
forgiveness in the biblical sense means to "set something free?" However,
learning to forgive is not easy for Theo's furry friends Luther and Belfry. In
this episode, Theo teaches the important lesson of forgiving others through
the parable of the "Unforgiving Servant." For if we do not forgive others, we
cannot expect God to forgive us!
Dove Review
"Theo: Teaching Children God's Word" is an exciting, fun-filled series that teaches children biblical lessons through stories and lessons that they will enjoy watching time and time again. The animation is some of the best we have seen and the lessons are well thought out and yet delivered in a simple and entertaining way. Children will be glued to their seats as they watch and learn God's truths.
We are pleased to award this exceptional bible lesson series our Dove "Family-Approved" Seal for All Ages and encourage you and your family to watch Theo together and have a family discussion on how the lessons given can be used in your daily lives.
Info
Company:
Whitestone Media
Industry Rating:
Not Rated