All For Liberty
DVD Release:
August 4, 2011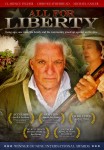 Synopsis
Moving Images Group & Coral Gate Media are proud present a new film directed by Chris Weatherhead. It is 1775. Henry Felder, a Swiss-German colonist, lives with his family in the Back-country of the British colony of South Carolina. However, he and his community are suffering under British injustice. After many years of struggling with corrupt British rulers, Felder is urged by the new patriot governor to write Articles of Separation from the English King. Felder's old Indian fighting comrade, Bill Jenkins forms a Tory militia to assist the Crown as the fight heats up. Felder raises his own militia, including a woman tavern owner who gathers a patriot spy ring. In the ensuing struggles Felder and his family discover the cost of freedom.
Dove Review
Here we have re-enactments about the time frame of 1775 to approximately 1780 and the difference people such as Henry Felder made in helping purchase our freedom as a country. Played wonderfully by Clarence Felder, Henry Felder was a Swiss brought to this country to help fight Indians. His wife is vividly and well played by Chris Weatherhead and her character's name is Catherine. She is a spunky woman with a lot of love and together they had many children, some of whom fought in the pending war with their father. Felder is portrayed as a man who was against slavery and indeed helps out a black man who is being persecuted in the story. He is a man with a twinkle in his eye but is dead serious when it comes to his convictions about freedom. At one point in the film he declares, "It's liberty or the hangman's noose!"
Felder is called on to write a Declaration of Separation from the king because he is told he is the man to do it, due to his integrity and convictions. Although this is a film based on historically true events, including fighting for freedom, it should be noted that the violence level hits a two, and came close to being a three, which would have prevented us from awarding our Dove Seal to it. There are several cutaway scenes of people being stabbed and shot, with some grunting sounds along the way from the victims, but there are some scenes which do briefly feature some blood on a shirt or hands or neck. I don't believe it is gratuitous but potential viewers should be aware that it is there. It is definitely not recommended for those even the least bit squeamish when it comes to blood. On the positive side, we learn where the title, "All for Liberty" comes from, and this is a movie which will leave you feeling good about America's hard-fought independence. We award our Dove "Family-Approved" Seal to the movie for ages twelve plus.
Info
Company:
Bridgestone Multimedia Group
Writer:
Chris Weatherhead and Ron Mangravite
Industry Rating:
Not Rated
Reviewer:
Edwin L. Carpenter