Jimmy Valiant: Scions of Danger
DVD Release:
August 15, 2011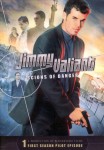 Synopsis
After a tragedy in the family business, young Jimmy Valiant seeks independence as an international soldier-for-hire. An anonymous client recruits Jimmy to shadow a controversial Texas State Senator trying to rescue a group of children who have been kidnapped from their Christian parents, Jimmy must overcome his myopia as he initiates an investigation that uncovers some startling truths, and brings him face-to-face with the last man in the world that he ever wanted to meet again. Soon he finds himself caught up in a conspiracy that threatens to undermine everything that he has come to trust.
Dove Review
You will have to be fast to keep up with Jimmy Valiant, a secret agent, who no matter how fast he speeds up, can't outrun his past, which includes the death of his sister and a falling-out with his father. Jimmy has several run-ins during his investigation of a Texas State Senator, which results in some bloody confrontations, shootings, and death.
This redeeming movie looks at a group of Christian children removed from a small congregation in Fredericksburg and from their parents for allegedly suffering from social withdrawal. The film portrays themes of faith in God and how that our faith is frequently attacked. In addition, it portrays the need for forgiveness when relationships with others have soured. We are pleased to award "Jimmy Valiant" our Dove "Faith-Based" Seal with a caution for violence due to some of the content listed below and commend its focus on forgiveness and redemption. If you want to view a movie which will connect with young people, this is the one!
Info
Company:
Perservero Films
Producer:
Nathaniel Darnell and Nathan Barnes
Industry Rating:
Not Rated
Reviewer:
Edwin L. Carpenter