Angel Dog
DVD Release:
December 6, 2011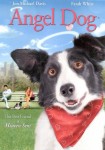 Synopsis
Angel Dog is an uplifting drama with sorrow, sincerity, hope, and humor…a journey of recovery for Jake Bryant, a man who has to learn to love, how to smile, how to live again after he loses everything that matters to him. His inspiration to get off the sofa and go on living comes from somewhere Jake never would have expected — a lovable stray named Cooper.
Dove Review
"Angel Dog" is a movie which adults along with kids will enjoy. Don't let the title fool you. The movie deals with something everyone can relate to: death and loss, and the subsequent grieving process. Yet "Cooper", a stray, is a lovable dog who seems to have a mission: to help those who are lonely following a loss. Then he moves on to the next need.
Jake Bryant is lonely following the sudden death of his wife in a car accident. Cooper had just come to her and, against his will, Jake begins to form a relationship with Cooper and enjoy his companionship. The local vet, Caroline Mason, who cares for Cooper at first following the accident, can't figure out why his owner is so slow to pick him up from her office. Later, as she meets and gets to know Jake, she realizes just how lonely she is too, caring for an elderly mother in a nursing home with no one to share her life with. This fantastic story is an inspiring story of hope and we place our Dove "Family-Approved" Seal on this movie with enthusiasm. This film earned it! Make sure someone you care about sees this movie. It just might make his or her day.
Info
Industry Rating:
Not Rated
Reviewer:
Edwin L. Carpenter