Walk the Talk … Jesus does
DVD Release:
June 1, 2011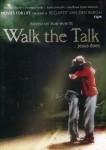 Synopsis
From the director of 'Faith like Potatoes' and 'Tornado' comes another compelling testimony of God's love and grace
On his day of release Hendriks (Randal Brown) discovers that his time in prison has brought him no closer to the peace that should come from justice but closer only to the longing that is evident in all humanity, is there such a thing as unconditional love? It just so happens that Hendriks over hears a DJ from a local Christian radio station as he sits on the pavement in a hopeless kayamandi. Nathan (Howard Fyvie) and Claire (Jessica Heath) who are hosting the show grapple with the question whether God's love is greater than our mistakes. Hendriks phones in and asks Nathan if God can love someone like him. When the story takes a bit of a turn Nathan and Claire are confronted with what it truly means to walk-the-talk.
Dove Review
Here is a valuable short film with added features such as a testimony and music video. The theme is walking the talk of Christianity. In the short film a young man named Nathan (Howard Fyvie) tries out at a Christian radio station to be a disc jockey and he turns the tables upside down figuratively speaking when he goes right into a program on God's unconditional love, admitting he is a former drug user who now lives for Christ. He tackles cigarettes too and mentions that God loves people who struggle to quit habits.
When a man named Hendriks, just released from prison, calls in and says he committed a terrible crime and wants to believe God can forgive him, Nate is on the verge of leading him to Christ when Hendriks runs out of change at the pay phone he is at. Determined to track him down Nate goes along with Claire, the daughter of the radio program director. Claire (Jessica Heath) struggles with smoking and Nate doesn't condemn her. It is a habit she is able to kick in the end.
This powerful DVD includes special features in which the principal actors and the director talk about God's unconditional love, walking the talk, a testimony by Dr. Zevenster, a Wholehearted music video, lyrics from the film's feature song, "Relentless", and finally the trailer of the movie as well.
This DVD will challenge believers everywhere to walk the talk and to rely on God's unconditional love. We highly recommend this film for family viewing as well as a great teaching tool. We can't help but award this movie five Doves, as high as we go!
Info
Director:
Regardt Van Den Bergh
Producer:
Lean De Wet and Dennis De Wet
Industry Rating:
Not Rated
Reviewer:
Edwin L. Carpenter