Penny and Rio: The Diamond Collar Adventure (Illustrated)
Book Release:
July 1, 2010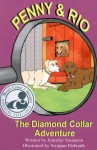 Synopsis
A new adventure! The dynamic canine detectives, Penny and Rio, escape from the backyard for the first time in search of a valuable diamond collar lost by Hannah, the beautiful show dog. During their search for the misplaced treasure, they encounter Ted, the lovable miniature collie, Sarge, the belligerent and forceful German shepherd, and an obstacle of epic proportions. But just when it feels like Penny has reached the end of the adventure, the prize is ripped from her grasp. Solving this new problem will take all the ingenuity and determination these dog detectives can muster.
Dove Review
Younger readers and pet lovers will enjoy reading this new adventure that Penny and Rio embark on. This book about the mystery solving dog duo will encourage reading and is colorfully illustrated. It is truly a fun adventurous book for youngsters and pet lovers alike. Everyone will fall in love with Penny and Rio along with their new friends as they solve this latest mystery of the diamond collar.
We are proud to award this newest adventure book, "Penny & Rio: The Diamond Collar Adventure", the Dove "Family-Approved" Seal for all ages.
Info
Company:
Mirror Publishing
Industry Rating:
Juvenile