Search for Noahs Ark: The Lost Mountains of Noah
DVD Release:
May 12, 2009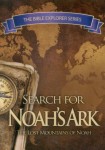 Synopsis
Ever since embarking on his first expedition to Mt. Ararat, Bob Cornuke, a biblical investigator and real-life Indiana Jones, has had a passion shared by only a select group of explorers. In Search for Noah's Ark, join Cornuke as he brings this adventure to life by trying to be the one to make the greatest archeological discovery in human history, finding the remains of Noah's ark. This film captures Cornuke's relentless search for the ark, culminating in threatening misadventures and a narrow escape from political unrest.
The second DVD in The Bible Explorer Series, this documentary invites viewers to join Cornuke as he searches to support God's Word with modern archaeological evidence. The series also includes Search for the Ark of the Covenant and Search for Mt. Sinai.
Dove Review
Here is a fascinating documentary about Bob Cornuke's search on Mt. Ararat in Turkey as well as a search in Iran for Noah's famous ark. His journey takes several twists and turns and leads to an amazing discovery in the end.
This documentary takes you on the journey with Bob and his crew and it shares details about past searches for the ark and about leads which led to a cold trail. Yet there were those which contained some genuine hope. Bob and his team wind up detained by the police in Turkey at one point but his persistence never wavers. He and his expedition base their search on scriptures and their faith in God.
This is a quality production and we don't hesitate in awarding our Dove Seal to this DVD for all ages. Are you in search of a great DVD? Give "In Search of Noah's Ark: The Lost Mountains of Noah" a spin in your DVD player.