Search for Mt. Sinai: Mountain of Fire
DVD Release:
October 27, 2008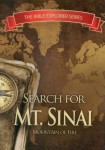 Synopsis
Join explorers Bob Cornuke and Larry Williams on their incredible expedition into the blistering heat of the deserts of Saudi Arabia to investigate what many scholars believe to be one of the greatest discoveries in history: the real Mt. Sinai, the holy mountain on which Moses received the Ten Commandments.
The third DVD in The Bible Explorer Series, Search for Mt. Sinai depicts the thrilling moments when the explorers crawl into forbidden military installations and employ night vision goggles to avoid being detected. Their risks pay off as they discover over a dozen significant remnants, including where the children of Israel crossed the Red Sea, the altar of the golden calf, and the split rock of Horeb. The series also includes Search for the Ark of the Covenant and Search for Noah's Ark, or get all three in The Bible Explorer Series: Three DVD Set.
Dove Review
Bob Cornuke, former police detective and current expedition researcher, joins forces with Larry Williams, a stock trader and journalism major, as they set out in search of the real Mt. Sinai, also known as Mt. Horeb. They reject the traditional site of St. Catherine's, believing it does not geographically match up with the biblical description of Mt. Sinai. Bob searches the scriptures and finds in Galatians 4:25 that the Bible states the location is in Arabia.
The two men find that Mt. Jabal Allawz is the best matching description and they soon travel there, albeit unlawfully. Although briefly arrested following their journey, they saw enough and retained enough evidence to strongly suggest that they found the true location. When they compare notes with a family who had previously been to the same mountain on fourteen occasions in eight years, the evidence supporting this site as the best possibility seems to be overwhelming.
This documentary is interesting and awe inspiring as the two men, Bob and Larry, take you along with them thanks to the video footage of their expedition. We highly recommend this fantastic DVD for the entire family. It earns our Dove Seal for family viewing all the way!