Jesus Kids Club
DVD Release:
May 26, 2011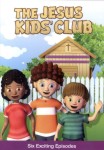 Synopsis
Join Chris, Diana, and Alex as they try to make a difference in the lives of the people around them. From bullies and grumpy neighbors to puppies at the animal shelter, the Jesus Kids' Club is there to share their service and God's love while keeping Jesus at the center of their lives. Along the way, they discover that spreading cheer and serving Him can be the best reward of all.
This animated DVD contains six short episodes, including "Zombie Cat," in which Alex learns that God's plan for him isn't always what he expects, and "Bad Gum," in which the kids tell the neighborhood's tough guy about Jesus. Other episodes include "Checkmate," "The Best Reward," "Prayer for One," and "Remy's Carnival," in which Alex makes a little boy's day with a special gift. An activity and lesson guide is also included.
Dove Review
Chris, Alex & Diana are members of a club they call the Jesus Kids' Club. They look for opportunities to be an example to others they meet- even when it is not easy.
Chris wants to win an award at school and show that he can be really good at something like others in his class. Instead he encounters unexpected situations where he makes the decision to encourage others to excel instead of him. He finds that being a winner is not just about being the one holding the trophy.
Diana and Alex each have the occasion to reach out to others in need with an unselfish heart. They too find it is much better to give than receive although challenge, loss and hurt feelings are an obstacle they must face as they do.
The members of the Jesus Kids' Club are a great example of friendship, trust and faith as they seek to be Jesus in the world around them. We are pleased to approve this delightful film for viewers of all ages.