The Pilgrims Progress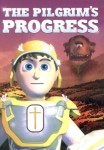 Synopsis
Join young Christian on his journey to the Celestial City in this animated adaptation of the timeless tale. Fearing the city will soon be destroyed by fire, Christian sets out on the path he has read about in the Bible. He encounters many friends and enemies as he struggles through the Slough of Despond, climbs the Hill of Difficulty, battles Apollyon, suffers at the hands of Vanity Fair, escapes the Castle of Doubt, and endures the many incredible experiences that carry him to his destination.
An allegory of the pilgrimage all followers of God must make, The Pilgrim's Progress presents John Bunyan's classic novel through the entertaining animation of artist Scott Cawthon.
Dove Review
John Bunyan's classic novel is brought to life through animation as a young man named Christian travels a treacherous journey; seeking relief from the burden of sin he vividly carries on his back. He fears the city he lives in will be destroyed by fire because of the disobedience of the people so he sets out to follow the path he has read about in his Bible.
Families with very young viewers are advised to be aware of the vivid storyline during the battles with Apollyon. However, we found this film to be a wonderful animated rendition of this timeless and powerful story and we are happy to approve it with the Dove Seal for all ages.