Bible Plays Vol. 1
DVD Release:
June 2, 2011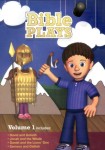 Synopsis
Set the stage for your child to learn classic Bible stories with the animated series Bible Plays! Join director Donovan and his theater class of Ian, Braden, and Hannah as they rehearse plays of their favorite stories from the Bible and learn important lessons about God while trying to sidestep trap doors and avoid the occasional rocket ship.
This animated DVD from children's filmmaker Scott Cawthon (The Jesus Kids' Club, Noah's Ark: The Story of the Biblical Flood, The Pilgrim's Progress) includes four short plays:
• David and Goliath (1 Samuel 17): After David defeats Goliath, the class learns that when you have God on your side, you can overcome anything.
•Jonah and the Whale (Jonah 1-4): Jonah ignores God's call to preach to Nineveh and ends up in the belly of a great fish, revealing God's mercy and His willingness to give us a second chance.
• Daniel and the Lions' Den (Daniel 6): Daniel keeps his faith and trust in God, even when he is thrown into a lions' den for refusing to bow down to the king.
• Samson and Delilah (Judges 13-16): The Israelites turn their backs on God and are captured by the Philistines. Now, God sends Samson, the strongest man who ever lived, to save them.
Dove Review
Classic Bible stories are taught through the eyes of Donovan and his theater class of Braden, Ian and Hannah. They bring to their stage in Volume 1 of Bible Plays, the story of David and Goliath, Jonah and the Whale, Daniel and the Lion's Den and Samson and Delilah. This theatre class has its share of challenges as they rehearse their parts amidst Hannah's antics! Costumes and props are all part of the fun as they frolic across the stage.
They learn important lessons about God and his unconditional love for his people as the Bible becomes more real to them when they bring these age-old stories to life. Children will find it easy to imagine they too are a part of Donovan's class… setting the stage for their next play!
Cooperation and friendship are central themes that are set against the backdrop of strong biblical values throughout this charming animated film. We are happy to award this film the Dove Seal for viewers of all ages.