Bible Plays Vol. 2
DVD Release:
June 20, 2011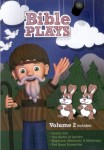 Synopsis
Let classic Bible stories take center stage in your child's Christian education with this animated series about a theater class working together to learn more about God. As Ian, Braden, and Hannah turn their favorite Bible stories into plays, they struggle with dedication, cooperation, and memorization; however, they still manage to share plenty of laughs and learn important moral lessons from their director, Donovan.
Volume 2 includes four short plays:
Noah's Ark (Genesis 6-8): Noah and his family are saved because of their obedience to God, even when what God told them was hard to believe.
The Battle of Jericho (Joshua 6): God gives the Israelites victory over Jericho and its enormous stone walls because Joshua obeys God without questions.
Shadrach, Meshach, and Abednego (Daniel 3): God saves three young Jews from a fiery furnace after they refuse to worship a golden statue.
The Good Samaritan (Luke 10): In this parable taught by Jesus, the class learns that being a good neighbor includes loving someone you don't like.
Dove Review
Classic Bible stories are featured in this animated story featuring Donovan the director and his theater class who bring some of their favorite characters to life through their plays. Ian, Braden and Hannah encounter plenty of laughs and Donovan the director has a few frustrations as they learn to cooperate, memorize lines and not give up when things don't go as planned. Noah's Ark, The Battle of Jericho, Shadrach, Meshach, Abednego, and the Good Samaritan are featured in this hodge podge of fun as this little class learns moral lessons of good and evil, trusting when the answer is hard to see and loving others more than themselves.
We are pleased to award this delightful film the Dove Seal for viewers of all ages.