Glow: Prenatal Cardio Sculpt with Tonya Larson
DVD Release:
December 21, 2010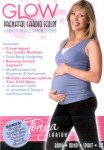 Synopsis
Revitalize your body, mind, and spirit throughout your pregnancy with Glow: Prenatal Cardio Sculpt. Offering safe and effective workout options for each trimester, Glow includes five low-impact cardio routines, a total body workout, and a relaxing stretch segment. In addition to an original upbeat soundtrack of new and familiar Christian dance music, the DVD also comes with a discount code to download the mix.
As a mother of three boys and a certified prenatal postnatal fitness instructor, Tonya Larson understands the challenges of staying fit during pregnancy. That's why during her third pregnancy she created Prenatal Cardio Sculpt as a fun and versatile workout for any expectant mom looking for a fit pregnancy!
Dove Review
Glow Prenatal Cardio Sculpt is an uplifting and inspiring exercise video for expectant moms that can be used from the first trimester through the third. Each exercise is shown at varying degrees of difficulty and challenge. All of the cardio sessions are done at a low impact level and the sculpt sessions are done with simple hand weights and a chair. The moves are easy to learn and will encourage healthy movement throughout each month for moms in all stages of pregnancy! The DVD is set to upbeat Christian music that is fun to exercise with and will uplift the spirit while bodies are getting toned. A great way to stay fit, keep moving and prepare for the birth of a little one!
Info
Company:
Bridgestone Multimedia Group
Industry Rating:
Not Rated