The Help
Theatrical Release:
August 10, 2011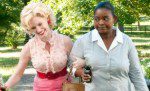 Synopsis
Based on one of the most talked about books in years and a #1 New York Times best-selling phenomenon, "The Help" stars Emma Stone ("Easy A") as Skeeter, Academy Award®–nominated Viola Davis ("Doubt") as Aibileen and Octavia Spencer as Minny—three very different, extraordinary women in Mississippi during the 1960s, who build an unlikely friendship around a secret writing project that breaks societal rules and puts them all at risk. From their improbable alliance a remarkable sisterhood emerges, instilling all of them with the courage to transcend the lines that define them, and the realization that sometimes those lines are made to be crossed—even if it means bringing everyone in town face-to-face with the changing times.
Deeply moving, filled with poignancy, humor and hope, "The Help" is a timeless and universal story about the ability to create change.
Dove Review
How many people remember the Crisco cooking lard? It is used in this movie to make fried chicken. This film will take you back to the 60s when times were simpler in some ways, and yet if you were a working African-American maid, your lot in life would be one of small wages, being taken for granted and not being allowed to use the family bathroom. Often it was a "special" or designated bathroom which the help had to use. The frequent viewpoint was "Separate but equal" which, when a person really thinks about it, doesn't make sense. How can one be forced to be separate and yet still be considered equal?
This movie blends drama with humor and is quite dramatic at times and pulls on the viewer's heartstrings when various stories are shared, such as the African American woman mentioning her son being hit by a vehicle and a man threw him on the back of his truck, then left him at the back of the hospital after blowing his horn.
The film does a good job in recreating the 60s and shows how things historically were but some very strong language is used in the film, and in one scene a woman has a miscarriage and blood is seen under her on the floor. Due to the language issue, we cannot award our Dove Seal to the movie.
Info
Writer:
Tate Taylor & Kathryn Stockett
Reviewer:
Edwin L. Carpenter