Mikes Inspiration Station: Vol 7-12 Box Set
DVD Release:
April 29, 2011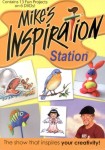 Synopsis
Spark your child's God-given gift of creativity with this second set of episodes from Mike's Inspiration Station. Geared toward ages 8-12, this series features 13 art projects on six instructional DVDs that encourage kids to follow along with host Michael Cariglio (Pappyland) and his biblical buddy, Booker T Bible, an animated Bible who provides project inspiration through Scripture.
Volume 7 features "Fun Fish Projects" and "Creating Fun Clouds." Volume 8 offers "Drawing Noah's Ark" and "Drawing a Shepherd and His Sheep." In volume 9, kids participate in "Making a Clay Easter Bunny" and "Drawing Jonah and the Whale." Volume 10 teaches "Drawing Laughter" and "Drawing Love." Children learn "Drawing Animal Cartoons Using Numbers" and "Drawing a Bluebird" in volume 11, and the final episode's lessons include "Drawing a Bluebird," "Fun Christmas Projects," and "All about Colors."
Dove Review
Mike and Booker T are here with six more inspirational DVDs in this box set to encourage artistic talents. Filled with fun projects for the creative family members, "Mike's Inspirational Station" will keep them busy for hours. There is something in this set for everyone including painting, drawing, playing with clay or creating a puppet.
While Mike teaches the creative activity, his friend Booker T relays scriptures from the Bible that connect to the projects. This collection will be a great addition to encourage and educate the artist in everyone. We are proud to award "Mike's Inspiration Station: Volumes 7-12 Box Set" the Dove Seal for all ages.
Info
Company:
Bridgestone Multimedia Group
Industry Rating:
Not Rated