Rev-Up for Learning
DVD Release:
October 13, 2010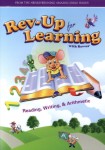 Synopsis
Teach your child a lifelong love for books, penmanship, and numbers with this fun and instructional DVD. Starring Revver® and the animated characters from the Amazing Bible Series, Rev-Up for Learning includes over 50 concept presentations and is perfect for visual and audible learners alike.
This comprehensive DVD includes three educational episodes for children ages 3-7. Learn how to count to 20 in "Rev-Up for Arithmetic," learn the alphabet sequence in "Rev-Up for Reading," and form all 26 letters in "Rev-Up for Writing."
Dove Review
"Rev-Up for Learning" is an educational DVD with faith-based content. This DVD covers the basic three skills: reading, writing and arithmetic, giving it the perfect tools to teach your youngsters age three to seven. They will learn about sounds that the letters make, simple math skills and numbers, and how the letters are formed. "Rev-Up" is a great tool in teaching your young children the basic skills in their learning process with this colorful illustrated DVD. While learning the basic learning skills, they will also learn important values from the Bible.
We award "Rev-Up for Learning" the Dove "Family-Approved" Seal for all ages.