Fright Night 3D (2011)
Theatrical Release:
August 19, 2011
DVD Release:
August 19, 2011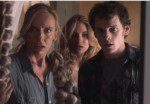 Synopsis
Charlie Brewster (Anton Yelchin) is a high school senior who's on top of the world—that is until Jerry (Colin Farrell) moves in next door and Charlie discovers that he is a vampire preying on the neighborhood.
Dove Review
All right, now I know why this film is in 3D. So when blood is sprayed it looks like it comes right at the viewer. Oh, how nice. It isn't very well done though which kind of adds insult to injury. In addition, one of the movie's main characters, the host of a supernatural TV show, disappears for probably a full forty five minutes at one point, and then suddenly we pop in on him again. "Uneven this movie is" Yoda might say.
If a person is inclined to a lot of action there is plenty to be had. Charlie (Anton Yelchin) figures out that Jerry (Colin Farrell) is a vampire early on. And Jerry knows that Charlie knows which adds at least a little suspense as the viewer might wonder how soon Jerry will try to get Charlie out of the way. When Jerry goes after Charlie's girlfriend, it is obvious he is a scum bag of the worst kind. Soon Charlie is after Jerry as much as Jerry is after Charlie. The cat-and-mouse chase increases in intensity as the film goes on, and I will say that Colin Farrell makes a pretty intense vampire. He seems to relish the role.
For family viewing though, we have to drive a stake in it and say no way. It contains too much blood and violence, sex and strong language, in addtion to drug use. As Bela Lugosi once said in an old movie, "Beware, beware!"
Info
Writer:
Marti Noxon & Tom Holland
Reviewer:
Edwin L. Carpenter