Glee: The 3D Concert Movie
Theatrical Release:
August 12, 2011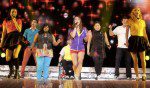 Synopsis
Starring 14 members of the Emmy and Golden Globe Award-winning television show's cast and shot live during the summer concerts, the movie will capture the unique concert experience along with special moments involving the characters themselves.
Dove Review
This film, a 3D concert featuring the talented actors from TV's "Glee", showcases their abilities in front of a live audience. Make no mistake about it, these talented young singers and dancers can perform. Rachel, Blaine, Artie, Santana, Brittany, and more show up and give it their all. The 3D effects are most stunning when a performer is close up. The end of the microphone goes right off into the audience. I was amazed at the reaction of the audience in this film. People of all ages, particularly teens, idolize them and scream like crazy when they get close to them. The program and concert celebrates being different, whether that means being thin or fat, or socially awkward, etc. One of the performers, a cheerleader, is a dwarf.
Unfortunately there are sexual innuendos and gestures in some of the moves of the performers and in the song lyrics, and one of the controversial content issues in the film is the fact that some celebrate being gay, with a few young men wearing "I Like Boys" T-shirts. One young man tells his story and that he is proud of "coming out" and of being gay. This won't set well with a lot of our conservative viewers and we wanted to give a word of caution. One performer grabs his crotch like Michael Jackson on more than one occasion. Due to the sex content issues, we are unable to award this film our Dove Seal.
Info
Company:
20th Century Fox
Reviewer:
Edwin L. Carpenter