Dog Jack
DVD Release:
January 31, 2012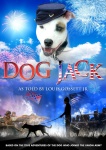 Synopsis
An adaptation of Florence Biros' classic children's novel, "Dog Jack" is a Civil War tale about 14-year-old Jed, a slave who escapes with loyal dog Jack to join the Union Army. Hounded by runaway-slave trackers, Jed and Jack receive the reluctant help of a troubled minister and finally reach the army of the North. When he enlists, however, Jed finds that he must confront not just the forces of the Confederacy but also the prejudices of his fellow soldiers. Jed's trials continue in a dramatic climax, when the young soldier faces his former master on the battlefield and must grapple with hard, surprising truths about his own past. "Dog Jack" is inspired by the historical true-life adventures of the beloved canine mascot of the Pennsylvania 102nd, who was so prized by his regiment for his skills in battle that he was twice exchanged for Confederate prisoners of war.
Dove Review
Here is a realistic and gritty movie which vividly portrays the Civil War, particularly the fight to end slavery. The film begins by stating it is based on true events. Despite several realistic moments of battle, including men being shot, some blood spilled, wounds, and racial attitudes, the movie also portrays forgiveness and God's love in a very powerful way. Louis Gossett Jr. voices the narration for the film.
Make no mistake about it. The movie contains war scenes and some violence, but never quite crosses our acceptability level. There is some blood and wounds seen here and there, but they are not gratuitous, nor is the film simply violent. The story focuses on a former slave named Jed, who was raised in a slave owner's home, General Eli Cooper. Eli's son Kirk always got along with Jed and Eli himself always treated Jed better than any other slave. However, Eli also beat Jed's father a lot. When the last beating results in his father's death, Jed decides he's seen enough and joins the army so as to be on the Northern side of the equation. His mother tells him, as she hands him a cross, to not forget the Lord. He learns a lot as a man who protected him when he ran away, Rev. Stewart, joins up with him and shares various trials and small victories.
Ultimately Jed learns a secret that rattles him and he eventually meets up with General Cooper, face to face, though on opposite sides. His conversation with Rev. Stewart about forgiving General Cooper is his ultimate challenge. The reverend believes that God and Christ can give Jed the power he needs to forgive.
The movie contains a powerful conclusion. It contains a strong theme of forgiveness, and we are pleased to award this film our Dove "Family-Approved" Seal.
Info
Starring:
Louis Gossett, Jr.,
Ben Gardner
, and Ken Craig
Reviewer:
Edwin L. Carpenter