The Forgotten Martyr: Lady Jane Grey
DVD Release:
September 30, 2011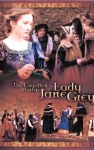 Synopsis
While casually browsing the bookshelves at a local library, a young woman stumbles across a book about the sixteen-year-old martyr, Lady Jane Grey. As she attentively ingests each word, her mind is captivated by the realism of the events unfolding before her. Pages continue to turn as moments turn to hours. Her imagination soon gives way to reality as we are transported back in time to find Jane (Jerica Henline) on the eve of her execution, rejected by her people, dethroned, and locked in a tower because of her refusal to acquiesce to the faith of her cousin, Mary Tudor. She takes comfort in her only faithful friend, Mrs. Ellen (Emily Meinerding). Follow this valiant young woman through the final hours of her life and be a part of the few to uncover the truth of this magnificent, untold story!
This short film is designated to educate viewers on the true story of this long forgotten martyr whose life has been shrewdly subjected to romanticism and falsehood by the propaganda of Hollywood screenwriters and liberal historical authors. Accompanied by an unwavering desire to strive for excellence in production values, it is our goal that viewers will be inspired by the story of a young woman who was resolved to remain steadfast in her allegiance to Jesus Christ. May God be glorified and His name exalted. And may this film render the justice due to The Forgotten Martyr: Lady Jane Grey.
Dove Review
This is a short but effective film, powerful in demonstrating Lady Jane Grey's faith which enabled her to stand strong for her beliefs, even to the point of death. The history of this event is portrayed after a young girl reads about Lady Jane in the library in the film's opening sequence. Lady Jane will not accept the faith of her cousin, Queen Mary, but holds to her own Christian faith and is sentenced to death for it.
In the day before her execution we see Lady Jane Grey writing a letter to her sister Catherine and praying and stating she is ready to die for "the day of one's death is better than the day of one's birth." She looks forward to entering the Lord's presence and she prays with assurance to the Lord Jesus Christ. She quotes Psalms 23 on her way to the chopping block
This is an inspiring short, a history-based program which manages to convey the intensity of the moment and of Lady Jane Grey's faith, in just fifteen minutes. We highly recommend it and gladly affix our Dove "Family-Approved" Seal to it. We believe this is a DVD suitable for all ages but obviously it involves the theme of death which the very young would probably not comprehend. Parents will want to watch it with their children to discuss its important historical implications.
Info
Industry Rating:
Not Rated
Reviewer:
Edwin L. Carpenter