Courageous (Novel)
Book Release:
August 1, 2011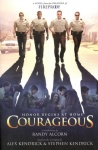 Synopsis
As law enforcement officers, Adam Mitchell, Nathan Hayes, and their partners willingly stand up to the worst the world can offer. Yet at the end of the day, they face a challenge that none of them are truly prepared to tackle: fatherhood. While they consistently give their best on the job, good enough seems to be all they can muster as dads. But they're quickly discovering that their standard is missing the mark.
They know that God desires to turn the hearts of fathers to their children, but their children are beginning to drift farther and farther away from them. Will they be able to find a way to serve and protect those who are most dear to them?
When tragedy hits home, these men are left wrestling with their hopes, their fears, their faith and their fathering. Can newfound urgency help these dads draw closer to God…and their children?
Dove Review
This is the novel based on the movie "Courageous". Obviously the book covers the plot and action of the film, but also goes into more length and depth regarding characters and events and dialog. For example, the authors allow us to read the thoughts of the characters, such as thirty-seven-year-old Nathan Hayes, who on page one is glad to be back in Albany, Georgia, and thinks, "Life here is going to be good." The book also contains a neat photo gallery section, with twenty two full-color photographs from the film, some of which are behind-the-scenes photos.
On page six there is a scene which is not shown in the movie, in which an officer is talking and cradling his son Jackson in his arms. Such scenes in the book further develop the characters. The plot of the book revolves around officers Adam Mitchell and Nathan Hayes and their partners. Most of these men are top notch law enforcement officials but a bit lacking in the parenting department. Mitchell misses his daughter Emily's piano recital and is even reluctant to dance with his daughter when she requests him to, a decision he later regrets. His son Dylan is into running and is withdrawn, playing video games and having little father-son interaction.
Then there is Javier Martinez. He needs a job and prays for a job, and then walks right into a miracle. This book, and the film, contain a few subplots which all unite as they each deal with the family unit. One man has not seen the daughter he fathered while in high school and longs to see her and to support her. Another father is a shining example when he rescues his infant son from a possible tragedy. The book contains some humor which the movie doesn't as it elaborates on a few scenes. For example, on page seven when he comes in a bit late, Adam's wife Victoria says, "Adam! It's 8:15. Where have you been?" Victoria had "the tone", so Adam gave her "the look". This humorous story is captured by the author's focusing on two words for her, "the tone", and two words for him, "the look".
Ultimately the book, as does the film, reaches the point in which several of the men agree to a resolution, a resolution to be the best fathers they can be. Following the novel, at 362 pages, the Kendrick brothers share a personal message and then discussion questions are included which could be used in a Bible study or personal devotion.
This is an incredibly well-written book and it complements the movie as the reader can see more into the mind of the characters, and read in more detail this wonderful story which the film portrays so well. This book has earned five Doves from us, as high as we go! We are pleased to place our Dove "Family-Approved" Seal on this novel.
Info
Company:
Tyndale Publishing Company
Reviewer:
Edwin L. Carpenter