Conversations with God
DVD Release:
February 27, 2007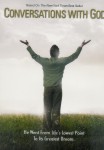 Synopsis
Neale Donald Walsch's autobiographical novel is a nearly unparalleled, touchingly triumphant phenomenon. And now the inspiring story has been adapted into an equally moving motion picture – one of such stunning affirmation, that it may change your life!
Henry Czerny gives a compelling performance in this true-life drama about the most spiritual experience a person can have. When his world crumbles around him, leaving him no job, no home and a debilitating injury, Neale Walsch (Czerny) demands an explanation for his suffering…and to his astonishment, receives an answer that will transform his world, his thinking and his life! See why the renowned author was inspired to share his story in this tremendously affecting and empowering film!
Dove Review
Neale Donald Walsch lost his job and soon found that he was living as he never thought he would, homeless and searching in dumpsters for food. His difficult path leads him to connect with several characters that touch his life, people he will never forget. He begins to believe that God is speaking with him and soon he admits to a select few that he believes he is having conversations with God. He eventually lands a job, writes a book, and soon finds himself at the opposite end of the spectrum with more than he could ever have imagined.
This film is based on the actual best-selling book. However, this is not based on the God of the Bible. In fact, in the entire movie not one scripture is quoted, there is just one reference which is similar to the scripture that God is with us always, to the end.
There is New Age teaching in the film, such as this: "That feeling inside of you…that love inside of you…that's God…expressing through you as you." Are we God? Also, supposedly God says that what "you" think about "you" is important. In other words, not what He or His word says about man.
Another example of the teaching in this movie is the comment, "The universe is conspiring in our favor, always." What is meant by the universe? Not God? And a character is told, "You've got me all wrong!" but again, no biblical text is given. Another controversial comment is that there's no difference between financial abundance and spirituality, and that they go hand-in-hand, but soon a man in the film hits poverty which contradicts this teaching. A question is raised as to whether or not God judges people. Also we note that a character is seen speaking at a Unitarian Center. Another example of the New Age teaching takes place when God supposedly says, "I just want you to be happy. You think you are below me, when in truth we are all one." He also states He wants for us what we want for us.
The movie does make a point that actors and athletes make millions of dollars. What about teachers, artists and nurses, firemen, policemen and writers? They should be paid well too. One lady piped in, "And mothers!"
The character of Walsch admits at one point in the movie he is not sure where some of his teachings come from. We are unable to award our Dove "Family-Approved" Seal to this movie because of its teachings which conflicts with scripture, not to mention the strong language. .
Info
Company:
20th Century Fox Home Ent.
Reviewer:
Edwin L. Carpenter