Nursery Rhyme Singing Time with Mother Goose Club
DVD Release:
April 29, 2011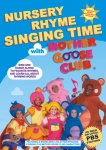 Synopsis
"Nursery Rhyme Singing Time with Mother Goose Club" presents six live-action characters, based on nursery rhyme characters, who introduce classic nursery rhymes to children through catchy tunes, playful shows and interactive lessons. The programming promotes wholesome and substantive learning through fun and genuine excitement for words, allowing parents to relax and completely enjoy the interactive experience. The DVD is a great way for a family to spend quality learning time together by combining the best of play and value-focused education through traditional rhymes.
Dove Review
"Nursery Rhyme Singing Time" takes young viewers on a whimsical jaunt to learn letters, colors, songs and rhymes! The costumes are delightful and the music sprinkled throughout is catchy. The background graphics that are in constant motion behind the characters will keep little ones engaged as they spend time with members of the Mother Goose Club.
Each vignette uses interaction and creativity. The Mother Goose Club characters find common objects to act out their nursery rhymes in short plays, encouraging youngsters to do the same long after the film is finished! This is not sedentary viewing, as children will be drawn to physically move as they follow along with "Jack Be Nimble" and "Itsy Bitsy Spider" rhymes to name a few. Hand motions are often taught encouraging small motor skills as well.
Nursery Rhymes teach rhythm, listening skills, reading readiness and creativity. Parents will delight to see their child interact and learn while enjoying this film and we are pleased to approve this DVD for viewers of all ages.
Info
Company:
Sockeye Media, LLC
Industry Rating:
Not Rated