Win By Fall
DVD Release:
August 23, 2012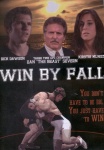 Synopsis
Scott Reynolds is the state's best 152 pound wrestler. He is a lock for a state championship and a scholarship to a Big Ten University. Scott is cruising his way through a perfect season, until his best friend Ryan, the team's 171 pound varsity wrestler, breaks his leg in a meet with their cross town rivals. Coach Winters (three time UFC heavyweight champion and hall of fame member, Dan "The Beast" Severn) moves Scott up to the 171 pound division. Now, two weight classes higher than he's ever wrestled before, Scott fights for his future. If Scott wants to go to college he needs a scholarship. If he wants a scholarship, he must WIN!
Dove Review
The actors in this film portray high school characters and their attitudes very well. This story is about the desire to win and the pressures these high schoolers face in attempting to make their dreams come true. On top of it, the pressure of earning a scholarship is hammered on young Scott Reynolds.
This story features the sport of wrestling and the pressures Scott Reynolds faces. Added to this realistic story is Scott's desire to date a certain girl. He goes for his dreams and, without plot spoiling, he overcomes much adversity in reaching for his goals.
This one may not be for everyone so make sure and check out the content ratings below. However, it features an inspirational story of a young wrestler who meets the challenges thrown his way, and it features characters who grow and change. We are happy to award this film our Dove "Family-Approved" Seal.
Info
Company:
Be Your Own Hollywood
Industry Rating:
Not Rated
Reviewer:
Edwin L Carpenter